Description: Bulb to 2 cm diam., sometimes with a few bulblets which form on the upper half of the outside of the scales. Stem 10-30(-80) cm. Leaves (7-)10-14, green, not glaucous; lowest oblong-lanceolate to linear, 4-10 x 0.5-2 cm, obtuse, alternate. Flowers 1-3; perianth narrowly campanulate, outside purple or glaucous green edged purple; inside yellowish edged purple, not tessellated. Outer segments oblong-lanceolate, acute, 20-28 x 4-6 mm, inner obovate-cuneate or obtuse, 7-10 mm broad. Nectaries 2 x 1 mm, at base of perianth. Filaments 7-9 mm, slender, densely papillose. Style 7-12 mm, very slender, straight sided, smooth. Capsule broadly 6-winged, wings irregularly toothed.
Flowers: Flower: April-May.
Habitat: Woods, scrub & grassy places
Elevation: 0-1000 m.
Chromosome number 2n = 24 (Başak 1991).
Type: [Bulgaria] in dumosis regionis inferioris calidae ad Nova Mahala (distr. Philippop.), 1892, Střibrný (holo. PRC), type? BM
Distribution: SE Bulgaria & European Turkey (Trace)
Cultivation: Not difficult in a bulb frame or raised bed, kept moist throughout the year.
Conservation Status: Bulgaria - Critically Endangered (CR)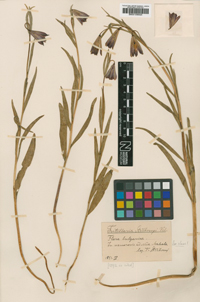 References
Başak, N. 1991. The genus Fritillaria (Liliaceae) in European Turkey. Botanika Chonika 10: 841-844.
Hayek, A. 1933. Prodromus Florae Peninsulae Balcanicae p.67.
Petrova, A. & Vladimirov, V. (eds). 2009. Red List of Bulgarian vascular plants. Phytol. Balcan, 15(1): 63-94.
Rix, M. 1979. Notes on Fritillaria (Liliaceae) in the Eastern Mediterranean region: IV. Kew Bulletin 33:587-589, fig. 1. (Available from www.jstore.org)
Turrill WB, Sealy JR. 1980. Hooker's Icones Plantarum 39(1-2): 173-174, t.3835.
Velenovský, J. 1893. Sitzungsber. Königl. Böhm. Ges. Wiss., Math.-Naturwiss. 37: 61.
Velenovský, J. 1898. Flora Bulgarica, Supplementum I: 270.